If you find yourself going to meetings, networking events, attending conferences, or training events, you can't help but meet people. You chat and you find people asking you for cards.
This is your first opportunity to be candid about who you are and what you do.
We all pick up business cards without losing time to learn much about the person who gave them to us. If you are searching for pure gold business cards then visit Pure Metal Cards.
How do we remember a week later what the Gill Bloggs of Express Services do?
So what should go on your card?
Your brand, of course – and, ideally, it should be memorable. It's your logo and the choice of fonts you use. It should stand out, but not overpower. Your brand should be clean and sharp, even if you don't have a logo, your company name should be presented consistently, so the same font on everything (business cards, letterhead, website, flyers, etc.). The letters should also be the same color, tone, and shade on the same background color – if you're using a graphic designer he or she should be able to give you a Pantone reference for each color you use.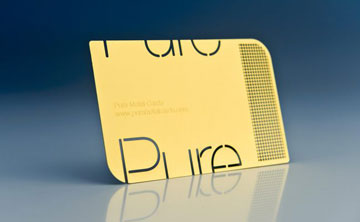 If you have a strapline it's even better. This helps people understand what your company does. For example:
Your name should be clear and bigger than anything else (except the logo). It should be big enough that people can read easily – even without their reading glasses on. If they haven't grabbed your name properly, this allows them to take a quick look and be sure they've found it. We've done it all – didn't name anyone – and it's embarrassing if you get it wrong or have to ask.
A professional email address. This means there is no Gmail, Yahoo, AOL, Hotmail, or any other address of this type. If you want people to take you seriously, ask your web designer to provide you with an email address that reflects your web address.
A snail mail address – your actual mailing address. It is advised, but not necessary. It doesn't matter if it's in a small font, but not small enough to require a microscope!